About my Kennel.
I could say that I was born and raised with dogs. As long as I can remember, dogs have always been an important part of my life. When I was two years old, the mixed-breed girl of "GSD-collie", PINTA, joined our family. My elder sister Marika bought Pinta from Nõmme market and lied to my mom that it was a male. Though mom would not have agreed with a female dog, the "male" could stay after long hours of begging. Pinta joining our family did not stop me and my sister from picking up stray animals (cats, dogs, birds) to offer them shelter till we could find them a new home though.
Marika trained Pinta and attended with her the Show Groups (agit group). Only very well trained dogs could join these Groups at that time. In order to perform at dog shows and other events, special skills and various tricks were required from the dog (e.g. jumping through burning rings, calculating within 10, taking orders in many different languages etc.). Several well-known Estonian GSD breeders of today, such as Urve Lageda and Tatjana Tšernjakova, also started their canine career in these Show Groups. Later, when my sister had a family of her own, Pinta became "my dog" with whom I participated the Show Group. Though only 12 years old, I performed with her all over Estonia and in Russia (Pihkva). Pinta was a most intellingent dog, playing a huge role in my childhood and leading me to my pedigree-dog-hobby of today.
After Pinta left us, I knew it was the GSD I wanted. As Pinta was very much like a GSD (only yellow) then GSD was the embodyment of intelligence for me.
In 1991 I finally bought my first purebred 100% "my very own dog" RÄNSI. Her mother was a jet-black GSD from East-European lines, father originated from Western Germany . Unfortunately Ränsi died in my arms at the age of 7.5 months from distemper; the vaccines available at that time provided inadequate protection. Distemper was a dreadful and widely spread disease during the Soviet times.
In Autumn 1992 I bought a GSD puppy named Estrell ARNELL, who is still with me and in good health. Arnell has played an extremely important part in my life. We have been through good times and bad times with her. She has been my comfort and support through tough times and we have grown together. She is the dog who will always stay in my heart. I was really enthusiastic when I got  Arnell, constantly attending the Shows and passing obedience trial with her at the young age of 10 months. Founding my own GSD kennel was just a natural "outcome".
Arnell left to rainbow bridge 15.04.2007.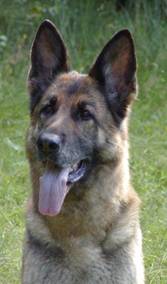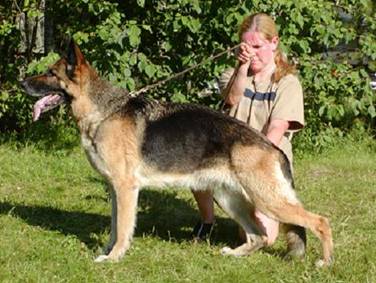 In 1995 I got another GSD female from Finland , Junkertum's CANCAN or Skippi. Skip turned out to be an excellent show dog, but with her I've never has as excellent contact as with Arnell. This has greatly been my own fault, as I did not work with her enough during her adolesence, so she became the "dog of another dog". Arnell and Skip are the founding bitches of my kennel – all my breeding bitches are their offspring.
The kennel affixe MARGMAN originates from my own name Margit Kuusman and has been registered with FCI in 1994. At home we have about 4-5 dogs at the time. Also very important for my breeding and i think the most successful female Margman Ziesel (Sissi). Sissi is the granddaughter of Junkertums Cancan (Skippi). Also Ziesels mother, Margman Gisela was a very important and successful dog for me!
All the breeding bitches live as pets in different families.  I try to breed healthy and good-looking GSDs, who have all the instincts needed for working  – so-called "universal dogs". Breeding is not a job for income, but rather a hobby to which I have devoted myself. To sum it up, I would use the words of Hans-Peter Rieker – the owner of kennel Bad-Boll: "Dog-breeding – this is the greatest hobby in the world, when infected with it, you can't get rid of it!"